Posted May 18, 2012
Deworming has never been easier, since wormer granules have been introduced. Granulated forms of equine dewormers make it so convenient for owners to deworm their horses. There is no need to deal with a headshy horse, one that constantly jerks its head away from the sight of a syringe, or one that is expected to always spit out the medication. Granulated dewormers are  available for several of the major class of dewormers known in the equine industry. Now, Abler delivers different deworming agents in the most convenient granule form!
Get All in ONE COMBO PACK!
2 packs AbPyran™ (Pyrantel pamoate)
2 packs AbIver Plus™ (Ivermectin and Praziquantel)
2 packs AbFen™ (Fenbenzadole)
4 packs AbIver™ (Ivermectin)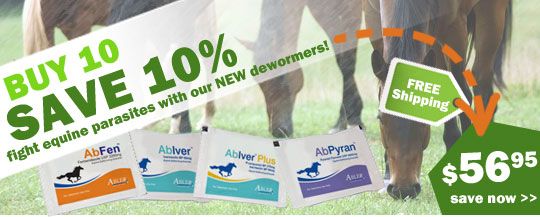 AbFen™, Fenbendazole for Horses
Fenbendazole for horses, AbFen™ is a relatively safe dewormer to use. With doses several times more than the recommended dose, no harm can be experienced by the horse. Because of its wide margin of safety, fenbendazole is used to eliminate immature parasites, which are usually resistant to different wormers because of their slow metabolism rate.  Fenbendazole AbFen™ is a broad-spectrum anthelmintic that works effectively against pinworms, redworms, stomach hair worms, roundworms, and large-mouthed stomach worms in horses. One sachet of fenbendazole granules is good for a 300kg (600lb) horse and the recommended dosage regimen is twice a day for five days.

AbPyran™,  Pyrantel Pamoate for Horses
When it comes to small strongyles, horse owners can face big problems with their horse's health. Small strongyles are notorious equine parasites that have developed resistance to many equine dewormers.  Pyrantel pamoate can target different parasites including pinworms, ascarids or roundworms, and both the large and small strongyles. Tapeworms are also controlled by pyrantel pamoate at recommended doses, but with a double dose, the efficacy of targeting tapeworms is increased. Though this drug has a wide coverage, it is known to be highly effective against ascarids or roundworms.

AbIver™, Ivermectin for horses
Ivermectin is a popularly used anthelmintic drug which is considered as the most effective, broad-spectrum wormer available; however, is less effective against tapeworms and small strongyles at their encysted stage. Ivermectin is known to be more effective in targeting bot larvae in all their stages. Botflies can lay several eggs that may contribute to the degradation of your horse's health. This equine anthelmintic is also considered safe to use, with 60 times the recommended dose still considered to be harmless for your horse. For bot larvae, it is best treated with ivermectin for horses, AbIver™.

AbIver Plus, Ivermectin Praziquantel Combination
When ivermectin and praziquantel are combined, a powerful anthelmintic is created to target roundworms and tapeworms, both of which are major equine parasites. It also works against bot larvae infestation. This anthelmintic drug has been proven safe for foals and pregnant mares as well.

ABLER has it all!
With a wide range of deworming choices, you can now create the most appropriate horse worming program, together with your veterinarian. There's only one place where you can find all your deworming needs at low prices –Abler, your one-stop shop for horse wormers.